Music is my passion. It encompasses my life and it literally is my being. There are eight bands that have captured my heart and taken me on a musical journey that has lasted for the past six years and continues each and every day (not to mention the thousands of dollars I have spent on these bands!). Because of the influence on my life that they have had, I have made a tribute page dedicated to them. They are listed in alphabetical order because they have all impacted my life at different times and in different ways and so none deserves to be above another.
AFI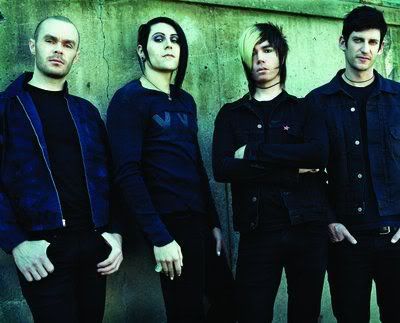 I first heard of AFI in 2002 with the song "Days Of The Phoenix." A friend played it for me and I enjoyed it, but didn't fall in love. It wasn't until 2003, with the song "Girl's Not Grey" that I became a real fan. I purchased my first AFI CD, "Sing The Sorrow," and the madness took off. Davey Havok writes the most touching and deep lyrics that I have ever had the pleasure of hearing. His vocabulary is so vast and so advanced that he uses elegant words and phrases that literally take me to another world. The music is phenomenal yet simple. I joined the AFI Message Board in 2004 but didn't join the Despair Faction (AFI's fan club) until 2006. I have seen AFI in concert twice - - December 6th, 2006 and February 6th, 2007, and I met them on February 6th at the Nashville Meet and Greet. They were incredibly nice to me and I will never forget the experience. My favorite song is "…but home is nowhere."
Bon Jovi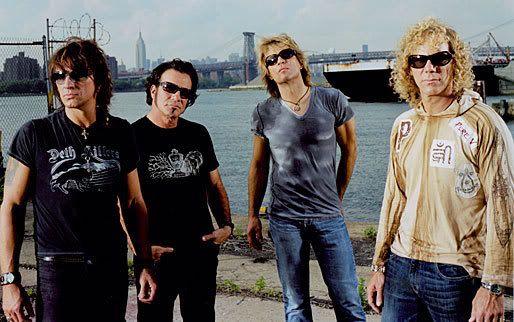 I was introduced to Bon Jovi when they performing on a September 11th special right after the tragedy. I fell in love with some of the classics such as "Livin' On A Prayer" and "You Give Love A Bad Name," and the more recent sound of "It's My Life." Soon after 2002's "Bounce" was released, I saw Bon Jovi in concert on February 14th, 2003. The show was amazing and I will never forget it. It wasn't until 2006 when I bought "Have A Nice Day" that I truly fell in love with this amazing band. I then worked my way backwards and purchased every album. Their live show is more than phenomenal and their music is rock at its best. I was lucky enough to see them in concert again in April of 2008. My favorite song is "Hearts Breaking Even."
Garbage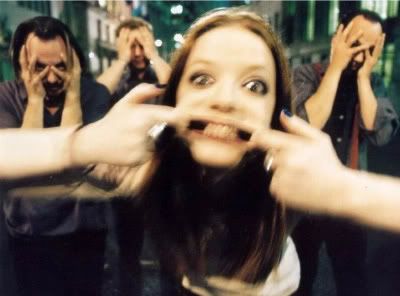 Like most children of the '90s, I had heard of Garbage since I was 8-9 years old. I never really gave them a second thought, though I did always think their name was way cool. Whilst browsing a 'Charmed' fansite for a song I had heard on an episode, I scrolled past a song that was on a previous episode entitled "Stroke of Luck" by this band, Garbage. Now first, I thought "oh wow, Garbage was on 'Charmed'? I do so love '90s music, I should check them out." Then I looked at the episode it was in, and I freaked, thinking "could this be that awesome song I had heard, but didn't think was a modern song because it was only instrumental?" Then it all began. I downloaded the song but yearned for more. So I bought their debut CD, and the rest is history. Shirley is pretty much
the
most amazing woman in music. She's extremely down to earth, funny, sweet... and her lyrics are awesome. Plus, she's more than the singer, she has a big hand in the actual music, as she plays guitar and helps write. Butch Vig, notorious producer, is also in the band, so that's a bonus. Garbage are just plain rad and I'm bummed I didn't discover them sooner. My favorite songs are "Supervixen" and "Sex is not the Enemy."
Goo Goo Dolls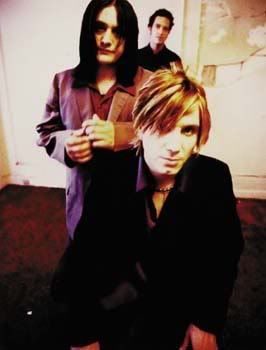 The Goo Goo Dolls were my first favorite band. I first laid eyes on this band in February of 2001, on an episode of "Charmed," which also happens to be one of my two favorite television shows. I loved the song they performed, "Broadway," and I thought Johnny was "cute." That moment sparked a love that simply cannot be topped. I said at the beginning of this tribute page that every band was equal, but I think I lied. The Goos stand out among every other band on this page. To date, I have seen them in concert eleven times –
1. Louisville, KY on May 27th, 2002
2. Memphis, TN on June 19th, 2002
3. Nashville, TN on September 2nd, 2002
4. Los Angeles, CA on September 13th, 2002
5. Birmingham, AL on November 30th, 2002
6. Nashville, TN on February 14th, 2003
7. Louisville, KY on August 13th, 2003
8. Atlanta, GA on August 22nd, 2003
9. Tunica, MS on August 23rd, 2003
10. Cincinnati, OH on July 12th, 2006
11. Nashville, TN on August 21st, 2006
12. Columbus, OH on August 29th, 2007
I have also met them four times – at my 2nd, 3rd, 4th, and 5th concerts. Robby Takac is one of the friendliest musicians in the business right now. He is also the industry's "best kept secret," as quoted by someone else. His songs are some of the best that the band has released. I joined the band's fan club, The Inner Machine, on the day of its opening, April 24th, 2006, and am still a member (as is my mother). I really can't say enough about my love for this band. On April 1st, 2002, my uncle died from a drug/alcohol overdose. Eight days later on April 9th, 2002, my cousin was killed in a car accident. The Goos' album "Gutterflower" was released on that same day (4/9/02). I picked up the album late that night and found solace in the song "What A Scene." To this day, that remains my favorite song.
Linkin Park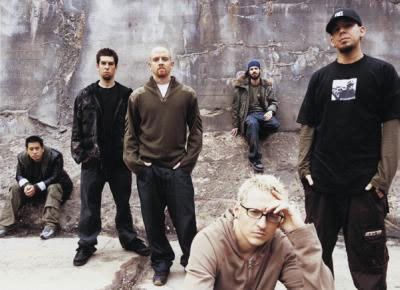 Radio airwaves were heavy with Linkin Park after their debut album "Hybrid Theory" was released in late 2000. Those airwaves hit my ears in 2002 with "One Step Closer." I was a casual fan of the radio hits such as "Crawling," "Papercut," and "In The End." Then, in 2003, I heard "Somewhere I Belong," the new single from their upcoming album "Meteora." I fell in love and purchased both albums. I joined the Linkin Park Underground, the band's fan club, in June of 2003 and am still a member. Though their lyrics are not extraordinarily complex, they are meaningful and have a deep and personal meaning for myself. Blunt lyrics do not necessarily mean shallow lyrics, as proved by tunes such as "Numb" and "What I've Done." I had the privilege of seeing and meeting the band on February 29th, 2004. They were so friendly at the meet and greet, I was actually blown away. Phoenix was especially talkative, and looking back, I wish I had said more! But I will never forget the experience. I was but a few feet away from the stage at the show and they, of course, put on an amazing one. I picked up four copies of their latest album, "Minutes To Midnight" the day it was released (5/15/07), and spent over $70 in the process. After that, I saw them in Nashville on February 26th, 2008, and again on June 28th, 2008 IN GERMANY. Talk about fantastic. My favorite song is "Numb."
Marilyn Manson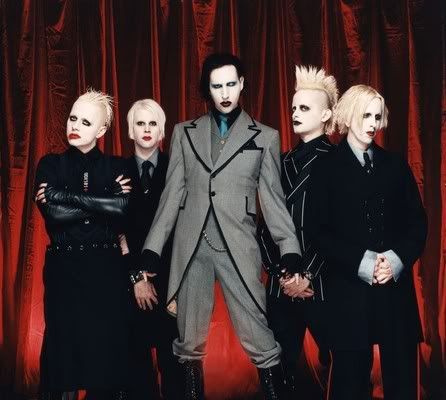 In 2005, my boyfriend at the time loved this band called Marilyn Manson. Of course I had heard of the band before, they (more like HIM) are notorious for their controversial antics both on and off stage. The first song I heard was "mOBSCENE," which was being played on my local radio station. That's when I looked into more information on this man (I then thought that he was a solo artist – a common misconception). I heard the song "Sweet Dreams" and loved it. Next I heard "The Nobodies," and my love took off. My boyfriend at the time loaned me all of his Manson CDs and I burned copies of each one. After about six months, I purchased my own copies of every album. Manson himself has a unique way of approaching lyrics. They are controversial and yes, generally aimed towards shocking people, but they are also personal. Tim Skold, the former bassist and guitarist, is my favorite member. I have taken quite a love to him (and he is the reason Shotgun Messiah is one of my favorite bands). I haven't had the opportunity to see this band live yet, but I'm hoping that opportunity will come sometime on the tour for Manson's new album. My two favorite songs are "Coma White" and "Putting Holes in Happiness."
No Doubt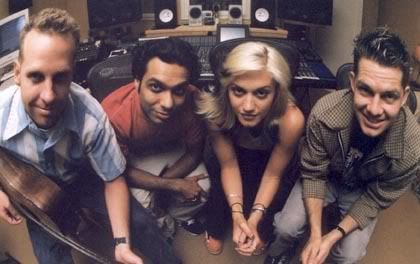 I discovered No Doubt during the summer of 2002, right in the midst of their highly successful album "Rock Steady," released in late 2001. The first song I heard was "Hey Baby," which was also the first single off of the album. I immediately picked up the album and loved its dance vibe. I decided to check out No Doubt's back catalogue, which includes the also highly successful 90s smash album "Tragic Kingdom," which I consider one of the best records to come out of the 90s. Unfortunately, I missed a chance to see No Doubt for FREE in my HOMETOWN because it was during school. However, I did get to see Gwen Stefani on her first solo tour on December 18, 2005 in Nashville, TN. Gwen's lyrics are really the only female lyrics that I can relate to. She approaches her writing from such a feminine perspective, and it really works for her. She is one of my biggest musical idols because she, as a female, made it to the very top and that's something to be so proud of. I am also a huge fan of her solo career, though not as much as No Doubt. I'm so stoked that No Doubt are doing a new album and going on tour! My favorite No Doubt song is "Artificial Sweetener," and my favorite Gwen song is "Danger Zone."
Shotgun Messiah
Unfortunately, I discovered Shotgun Messiah 12 years after they broke up. However that doesn't stop them from making my favorites list. Tim Skold (the blonde in the photo who was most recently in Marilyn Manson) is the reason I started listening to this band, and boy am I glad I did! They are the epitome of an '80s band, but it so works for them. They are all (save Bobby, the bassist) from Sweden. I don't remember the first song I heard, but I'm thinking it was "Heartbreak Boulevard." Tim's sexy accent mixed in with the '80s element are the major appeal of this band (to me). Their best record, in my opinion, was their second, "Second Coming," released in 1991. My favorite song is "Ride The Storm."
*Written on June 4th, 2007.
Annotated on January 9th, 2009.